Product Description:
Creality 3D Resin 3D Printer w/ UW-02 Washing Curing Machine Bundle
CREALITY LD-002H Resin 3D Printer 130x82x160mm Print Size
Upgrade UV Light Source Module:  The Creality LD-002H Resin 3D Printer is equipped with a UV integrated light source, providing improved light transmission.  The UV light achieves 8000uw/cm². A consistent UV light source is the most important factor in printing.
Z-axis Linear Rail:  The linear rail provides a much stronger structural mechanism for the Z-axis, resulting in better, more refined prints.

Air Filtration System with Activated Carbon: Activated carbon can effectively reduce the emission of the odour from resin and is more environmental-friendly.
Easy Levelling System: Simply lower the printing platform atop an ordinary piece of paper. Then hand tighten the levelling nut to complete the leaving process.
Powerful Slicer Software: The Creality LD-002H resin printer is supported by CHITU BOX software for slicing. CHITU BOX is easy to use, with one-key functions to add a model, adjust supports, model size, etc.
3.5 Inch Full-colour Touch Screen: A simple UI design interface can monitor real-time printing information, is easy to operate, and user-friendly.

NEW ITEM: Hi-Res 6.08" 2K monochrome screen: The Creality LD-002H utilizes a 1620*2560 monochrome LCD for layer exposure. Not only does it increases print speed up to 200% or more, but the life of the screen is increased by up to 400%.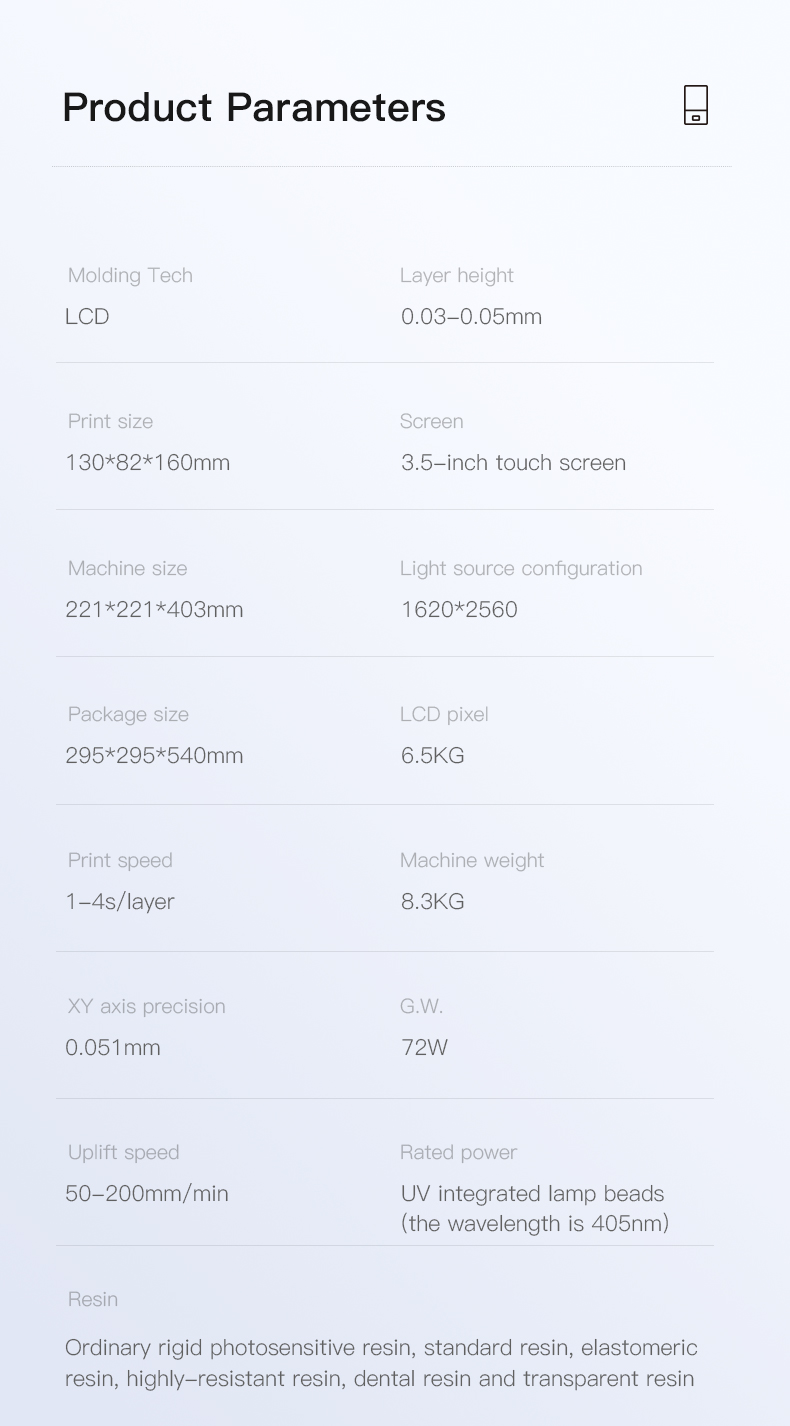 CREALITY LD-006 Resin 3D Printer 8.9 Inch 4K Monochrome Screen 192x120x250mm Print Size 
Eight Core Configurations:



8.9'' monochrome screen: Exposure time 1-4s

4K solid-state display: 3840x2400dpi

Rapid printing: Max. speed 60mm/h

Large printing size: 192x120x250mm

Directional matrix UV: Quartz LED

Stable Z-axis: Dual linear guide rails

4.3'' color touch screen: Better user experience

Cooling & purification: Dual-fan + active carbon
8.9'' Monochrome Screen- Max. printing speed 60mm/h
Service life up to 2000H quadrupled that of the color screen; Higher print speed as single-layer curing time reduced to 1-4s.

High Resolution 3840x2400dpi
A clear display of every detail guarantees perfect printing without blurs or grains.

4k resolution-3840x2400dpi; XY axis precision-0.05mm
Large printing size-192x120x250mm
Large print size for various demands and printing tasks.

New directional, Matrix light source: Matrix light source with Min. angle 2°, quartz LED, and even ultraviolet radiation, ensure printing quality. 
Sturdy Z-axis Structure: Z-axis, based on dual linear slide rails and T-rod, achieves better precision and smoother surface. 
Build-in Air Purification System: Dual- fan cooling system; Active carbon air purification for odor-free user experience.
Humanized creative resin vat: 
Liquid level meter to prevent resin waste;

Vat stands for protecting the release film from being scratched or contaminated.
Creality 3D UW-02 Washing Curing Machine 240x160x200mm Washing Size
All-in-one Washing Curing Machine. Large space for washing and curing. Integrated automatic cleaning of your 3d printed model. Curing 3d printed parts by controlling light, speed, and time accurately. Dimension of washing basket cleaning: 240 x160x200mm.

10.1-inch Washing/Curing Machine: 
Large space for washing and curing, to meet the processing demand of large size models.


360° all-around curing:
360° specular reflections curing rotating platform with 385nm and 405nm dual-band LED beads, all-round curing without dead band.

Upgrade the lens UV lamp beads:
Dual-band UV lamp beads strip, increase entire lens strip to make the UV light source irradiation is the more uniform and concentrated and more complete model
curing.

Speed/Time settings supported.

Product Parameter:
Fully-enclosed machine size: 325*295*584mm

Washing size: 240*160*200mm

Maximum model weight: 2.5kg

SLA wavelength: 385nm&405nm

Box type: Fully-enclosed
More details: